Latest News in details
The defending champions went down in the semi-final after sailing past the group stages without losing a single match
Eritrea have booked a spot in the Cecafa Senior Challenge Cup final after beating Kenya 4-1 in the first semi-final played at the StarTimes Stadium in Lugogo on Tuesday.
READ ALSO:Young women in Kibera are writing their street harassment experiences on roads to highlight the damaging nature of sexual harassment.
An own goal by Oscar Wamalwa followed by other strikes from Abel Okbay, Michael Habte Gebremesqel, and Robel Kidane were enough to force Kenya out of the competition.
Harambee Stars got the lone goal from Wamalwa's second-half strike.
Eritrea surprisingly started the first half with more energy than Kenya and could have gone on to score in the ninth and 12th minutes. In the first scenario, Ali Suleman Ibrahim was blocked by Samuel Olwande as he ran at full speed across the left side of the pitch.
Kenya's captain Joash Onyango saved the moment when he made a vital tackle against his Eritrean counterpart Robel Teklemichael who was through on goal in the second instance.
With Eritrea attacking relentlessly, Teklemichael blasted over the bar in the 17th minute but were not denied in the second scenario where Kidane's shot deflected off Wamalwa and the ball sailed into the net for the opener in the 19th minute.
Francis Kimanzi was forced to make a change in the 28th minute as he replaced Roy Okal with AFC Leopards' attacking midfielder Whyvonne Isuza. Okal was making his first start since the tournament began but could not last the full minutes of the first half.
Wamalwa's effort in the 39th minute was clinically blocked by the Eritreans who had now retreated to deal with an insurgent Harambee Stars. Kenya got another blow in the 41st minute when winger Kevin Kimani got injured and his place was taken by Kariobangi Sharks' fullback Daniel Sakari.
Harambee Stars went down again in the 49th minute after Okbay found the back of the net to shock the defending champions once more. Okbay's long-range strike was taken with such precision that goalkeeper Odhiambo could not deal with it.
Kenya responded quick and halved the deficit when Wamalwa's strike evaded everyone to land into the net. Gebremesqel took just six minutes on the pitch to stretch the lead for Eritrea in the 66th minute.
Gebremesqel had replaced Eyob Weldeyohannes at the hour mark and his shot from a tight angle was enough to down a retreating Harambee Stars.
Kidane got the fourth for his side in the 75th minute with Kenya completely struggling to deal with Eritrea's forward surge in the last 20 minutes of the showdown.
This is Eritrea's third consecutive win against Kenya after the 2-1 win in 2006 and a 1-0 result in 2007. Both came during the Africa Cup of Nations (Afcon) qualifiers.
Young women and girls in Kibera, one of Africa's largest informal settlements, are writing their street harassment experiences on roads and canvasses to highlight the damaging nature of sexual harassment.
Warning: Some readers may find part of this article distressing
Zubeida Yusuf has lived in Kibera, in Kenya's capital, Nairobi, all her life, and for as long as she can remember, street harassment has been a part of her life.
READ ALSO:Governor Sonko bundled into police chopper after dramatic arrest
"Men will say things like: 'You're very fat. Is your mother a butcher? Did God use his last piece of clay on you because you have large breasts and a big behind.'
"It's a lot for us to take in when we walk out here (in the streets)," says the 22-year-old.
But over time, Ms Yusuf has learnt to fight back and she is helping other women in Kibera claim their voices back in situations where some women say they feel powerless.
Using chalk and markers, in a campaign dubbed "Chalk Back", Ms Yusuf and other girls and women are writing down their experiences of street harassment.
The campaign, they hope, will spur conversations around the damaging nature of street sexual harassment.
"Nowadays, when the men insult me, I stop and ask them to their faces, why they are insulting me. However, for underage girls fighting back may be harder," she says.
"That's why campaigns like these are important. More of us need to push back and tell people it is not okay to speak to women this way."
"Respect my body," one message on the road screams.
Others, written in Swahili, reveal more disturbing messages.
"Unaringa, wewe ni vajo" (You think you are too good for us, yet you're still a virgin).
"Chura hii" (slang for prostitute, which also means frog in Swahili).
Caroline Mwikali, who is 20 years old and also a Kibera resident, confesses some of the slurs used against her have cut deeper than the perpetrators realise.
"You really can't walk down these streets without a man saying something nasty to you. Sometimes we're even likened to animals.
"It affects one's self esteem. When I sit by myself, I wonder: 'Am I really as worthless or as ugly as that person has said I am?'"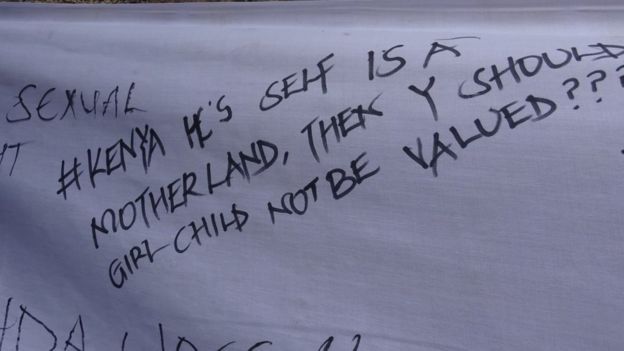 But it's not just the emotional cost of street harassment that is the problem.
No-go areas for women
According to the UN, the lack of conclusive and comparative national data and policies on street harassment within countries is one among many of the challenges when it comes to combating the problem and ensuring the safety of girls and women in public spaces.
A 2019 Plan International street harassment survey of five cities revealed that less than one in 10 of the women and girls interviewed reported their experiences to the authorities.
This is because women were unsure of what exactly authorities could do, and whether street harassment could be termed as a "serious" crime.
Experts agree that street harassment continues to curtail women's participation in public spaces socially and economically. Often, women are forced to modify their behaviour to fit in.
"There are certain places and scenarios I avoid. When I see a large group of men congregated somewhere, I won't pass there," says Ms Mwikali.
"There are also places, especially in the evening that will never find me outside. Women have been raped in some of these areas."

The measles epidemic ravaging the Democratic Republic of Congo has killed more than twice as many people since the beginning of the year as the country's ongoing Ebola outbreak, the United Nations has warned, calling for a strong response.Measles, a preventable disease, has killed over 5,000 people in the central African nation since the beginning of 2019, while nearly 2,000 have died from Ebola during the same period, according to new figures released by UNICEF on Wednesday.Over 90% of the total measles deaths, or nearly 4,500 people, were children under the age of 5, according to UNICEF. The organization called it "the world's largest and fastest-moving epidemic" at the moment, noting that it has spread to all of the country's provinces."Violence and insecurity, lack of access to healthcare and shortages of vaccines and medical kits in the worst-affected areas have meant that thousands of children have missed out on vaccinations, with potentially deadly consequences," UNICEF Representative in the DRC, Edouard Beigbeder, said in a statement.
READ ALSO:The royal drums of Burundi
The highly contagious virus is passed through direct contact or through the air and starts with a high fever. Young children who are malnourished, have vitamin A deficiency, or whose immune systems have been weakened by HIV/AIDS or other diseases are most susceptible to the disease, the World Health Organization said.The measles epidemic in the DRC comes as the country battles a devastating Ebola outbreak — the largest and deadliest since the outbreak that spanned several countries in West Africa from 2014 to 2016 and claimed the lives of more than 11,000 people.
Agencies and partner organizations have distributed more than 1,300 measles kits containing antibiotics, rehydration salts and other medicines to the worst-affected areas but stressed the need for a comprehensive long-term plan for fighting the disease. Beigbeder said despite the high death toll, the measles epidemic hasn't drawn as much attention as the Ebola outbreak."These measures can only ever be a short-term solution, as significant investment in strengthening DRC's national vaccination program and wider health care systems is crucial to guarantee the health and wellbeing of the country's children," Beigbeder said.
Mistrust and fear halt containment
Among the challenges in containing the measles outbreak in the DRC, just like containing Ebola, is overcoming mistrust among local communities and educating parents and residents that vaccinations could save lives, the WHO said.In addition to the ongoing fighting in the country, "cultural beliefs and traditional healthcare practices also often get in the way of vaccinating children against measles and treating those with symptoms, Beigbeder said."The key is to reach every single child, no matter where they are."
A UN peacekeeper patrols in DRC's North Kivu province, where many armed groups operate and regularly attack villages.
Health workers killed in the violence
The continuous fighting in parts of the country presents an additional challenge for medical and aid workers, some of whom have lost their lives in the violence.Two overnight attacks Wednesday into Thursday in eastern DRC killed four workers responding to the Ebola outbreak and injured five others, the WHO said in a statement Thursday. The attacks took place on a shared living camp in Biakato Mines and an Ebola response coordination office in Mangina, WHO said.
The royal drums of Burundi have been considered sacred since ancient times, and a symbol of unity.
READ ALSO:Manchester United demolish Manchester city at Etihad stadium.
With wild dancing to a furious beat, booming wooden drums echo over a hill in Burundi – an ancient sound, a sacred tradition and once a symbol of unity for the kingdom.
Youngsters dance around the circle of 15 drummers led by 79-year-old Antime Baranshakaje, still sprightly and waving spear and shield, himself the former drummer of the last king of this small central African nation.
Here on a hilltop in Gishora, about 100km east of the capital, Bujumbura, the drummers perform. It is an impressive show; so much so that the ritual dance of the royal drums was placed on Unesco's Intangible Cultural Heritage list last year. "The entire population of Burundi recognises it as a fundamental part of its heritage and identity," the UN body said.
Today the drums are played for entertainment, but for centuries they were a sacred rite – a powerful memory for a country whose recent history has been scarred by decades of civil war and bloodshed.
"The drum was the symbol of royal power," says Father Adrien Ntabona, a Catholic abbot and anthropologist. "It was no little thing, nor as commonplace as it is today … For God came through the drum to protect the monarchy and the kingdom, the whole country."
Indeed, in the Kirundi language, the word for drum – ingoma – is the same as that for kingdom.
Baranshakaje was one of the last to have played for the ancient spring festival of the sowing of the crops before Burundi became a republic in 1966, after independence from Belgium four years earlier. It was the nation's main festival, celebrated in December to bless the farms.
According to legend, the special drum appeared with the birth of Burundi's monarchy centuries ago. But the power of the drums was chipped away under Belgian rule, especially with missionaries who sought to replace the power of the king with "the King of Kings, Jesus Christ", says Ntabona.
Drums were instead used to herald the start of church services and school. The instrument's power waned further after Burundi's last king, Ntare the Fifth, was forced to flee into exile in 1966.
"Today at parties people pay to have a drum," says Ntabona.
Still, the ancient ways of playing and dancing, handed down from generation to generation, remains the same. "Many things have changed," Baranshakaje says. But the drummer, who has performed in more than 30 countries, quotes an old proverb: "He who strikes the drum sets the pace for the dancers."